During the last year, with the rise in website traffic and online accessibility you no doubt have heard and seen words like webhosting and domain names. You also have heard the phrase eco-friendly used throughout the world as we talk about saving the planet and reducing the consumption of plastics. But have you heard of the term eco-friendly webhosting?
Imagine how many people since the pandemic have ventured into creating their own web pages, web shops, and even blogs to get their message and products out to the world.
In order to have a presence on the world wide web, you need a web page. And in order to have a web page you need web hosting – whether paid or free. And what better way to help save the planet than by getting eco-friendly webhosting with a company that has been helping to save the planet while offering web hosting services.

WHAT IS WEB HOSTING?
Web pages have to reside somewhere in cyberspace. And since web pages are virtual pages, they have to be stored on a hard drive on a computer somewhere in the world. This is where webhosting providers come in.
Web Hosting companies have very large hard drives stored in large facilities throughout the world and they charge you a small fee to allow you to keep your web pages on them. It is really that simple.
There are many companies that offer you webhosting services, but only one that is determined to offer the best eco-friendly web hosting out there.
WEB HOSTING CAN BE BAD FOR THE ENVIRONMENT
Did you know that companies which use the internet consume a lot of energy. The internet is really made up of many data centers which house a vast number of computers that are plugged into electrical outlets and run for 24 hours day in and day out.
These computers consume enormous of energy. In order to keep them cool, massive air conditioners are also plugged in and running all day every day ensuring they do not overheat.
Did you know that about 40% of all of the energy used to electrify the internet is used just to keep those computers from overheating.
All over the world, these data centers get their power from their power grid, most of which are produced by carbon-polluting sources.
The number of data centers with servers throughout the world has risen from half a million in 2012 to over 8 million today. This is a growth of 16 times in the last 10 years.
Unfortunately, the Internet is the fastest growing carbon polluting industry today and continues to grow. Data centers today account for roughly 2% of the world's carbon emissions. They are expected to grow to 14% of the world's carbon emissions in another 20 years.
But we can do our part to help reduce this.
GreenGeeks offers an eco-friendly webhosting option for those who want to do their part to save the environment and have a website at the same time.
This hosting platform has been designed with the view of maximizing use with no waste of resources.
Every aspect of the hosting platform is built to be as energy efficient as possible. In addition to this, for every amperage used from the grid, they match 3 times that in the form of renewable energy via the Bonneville Environmental Foundation.
Your website will be on a 300% green hosting platform. You can feel good that you're helping make a difference by using an eco-friendly webhosting platform.
The benefits of eco-friendly webhosting are as follows:
| Item | Description |
| --- | --- |
| Speed | With the latest in speed technology including LiteSpeed and LSCache, your pages and blog posts will load in no time. |
| Scalable | Easily scale resources when you need it and upgrade your hosting when you are ready. Start small and grow as your website traffic grows. |
| Storage | Your data is stored on SSD storage arrays for extremely fast page loads and maximum redundancy. |
| Secure | Information on your site including your pages, plugins, posts, media files are all safe with custom security rules and zero-day vulnerability fixes. |
| Stable | With container technology, account isolation and daily backups, your information is well taken care of. |
| Support | The best 24/7 support is a click away. Log on to your dashboard and in seconds, you are online with an experienced agent who will walk you through any issues you are having. |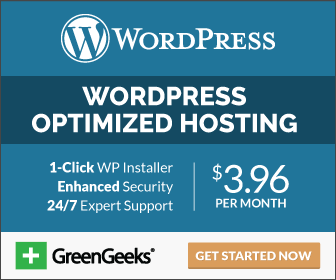 GETTING STARTED WITH ECO-FRIENDLY WEBHOSTING
Go to GREENGEEKS and get started in a matter of minutes.
Click on the green GET STARTED NOW –> button. You will be given a special discount at the date of this post.
You will be given 3 PLAN options for your webhosting based on your needs. They are LITE, PRO and PREMIUM. The screen should look like the one below:
PLAN

PRICING/TERM
WHAT YOU GET

LITE


Perfect for small
websites or blogs
that are just getting
started.
$2.49 per month
based on a 3 year plan
$3.95 per month
based on a 2 year plan
$4.95 per month
based on a 1 year plan
Renews at $10.95 per month
after first plan
One Website,
50GB Web Space
Unmetered Data Transfer
50 E-mail Accounts
Standard Performance
LSCache Caching
Free SSL Certificate
Free Domain Name for 1st Year
Free Nightly Backup, Free CDN
WordPress Installer/Updates
Unlimited Databases
300% Green Energy Match
30-Day Money-Back Guarantee

PRO


Great for growing
websites that need
more speed and
resources.
$15.95 per month
based on a 3 year plan
$15.95 per month
based on a 2 year plan
$4.95 per month
based on a 1 year plan
Renews at $15.95 per month
after first plan
Unlimited Websites
Unlimited Web Space
Unmetered Data Transfer
Unlimited E-mail Accounts
Faster Performance
LSCache Included
Free SSL Certificate
Free Domain Name for 1st Year
Free Nightly Backup, Free CDN
WordPress Installer/Updates
Unlimited Databases
300% Green Energy Match
30-Day Money-Back Guarantee

PREMIUM


Our small business
plan is perfect for
very busy websites
or online stores.
$25.95 per month
based on a 3 year plan
$25.95 per month
based on a 2 year plan
$8.95 per month
based on a 1 year plan
Renews at $15.95 per month
after first plan
Unlimited Websites
Unlimited Web Space
Unmetered Data Transfer
Unlimited E-mail Accounts
Fastest Performance
LSCache + Memcached
Free Dedicated IP
Free Premium SSL
Free Domain Name for 1st Year
Free Nightly Backup, Free CDN
WordPress Installer/Updates
Unlimited Databases
Free Dedicated IP
300% Green Energy Match
30-Day Money-Back Guarantee
For those just starting a blog or a website, the Lite plan is good to begin with. You can always upgrade later on when the site becomes bigger and you get more traffic on a monthly basis.
Go to the LITE plan and click the green GET STARTED button. This will take you to the screen where you will see if your DOMAIN NAME is available, or if you already have a domain, you can type it in. One of the benefits of getting a hosting package is if you do not have a domain name already, you can get one FREE for the first year with your hosting package.
NOW ADD YOUR DOMAIN NAME
IF YOU DO NOT HAVE A DOMAIN NAME
AT THE LEFT

, where it says Create A New Domain Name, type in a domain name that you would like to get. Since there are millions of websites already on the internet, the exact one you want may already be taken. So you have to get creative when selecting a website name that is different from those already on the internet.
Type in a name in the first box like domainthatIwant WITHOUT THE WWW in front
Then select from the dropdown next to it, the extension. You will notice there are only 5 choices for extensions. These are the most popular.
.COM is universally known
.NET is also universally known but not as popular as .com
.ORG is often used for organizations, teams, clubs, groups that are less non-commercial
.INFO has become used for informational sites
.BIZ has become used for businesses
IF IT IS ALREADY TAKEN
If the domain name is already taken, you will get a message that says: "Domain is not available. Please try another domain name."
Continue to type in a domain name until you get to the screen like the one shown below. I have used swimmingwithmyfriends.com which was available. You will notice that it automatically has given you a price for 3 years, showing the TOTAL and the DISCOUNT given.
IF YOU ALREADY HAVE A DOMAIN NAME
AT THE RIGHT, where it says Use a Domain Name You Already Own, type in the domain name that you already own. Green Geeks will do all of the back-end work to attach your current domain to this new hosting plan that you are getting.
FILL IN YOUR INFORMATION & SELECT YOUR PLAN
Start to fill in the information asked for:
Email Address
First Name
Last Name
Business Name (OPTIONAL)
Street Address
City
State
ZIP/Postal Code
Country
Phone Number
PACKAGE INFORMATION
You will notice that you have been automatically given the 3 YEAR PLAN for the price that was offered. This is an amazing deal. You can get 3 years of webhosting up front for under $100, saving $318 over the original price. You can now spend the next 3 years building your site and blogging.
If you wish to change the term from 3 years to 2 years or 1 years, the pricing will adjust. I would recommend at this price to go with 3 years. Then after the 3 years, you will have made enough money from your site that you can pay for the renewal costs of $10.95 per month.
ESSENTIAL ADD ONS
The next section has 3 options for add-ons. The first two are automatically ticked and comes with the plan (Domain Locking and DNS Control). The third option (ID Protect – WHOIS Privacy) is something I would recommend you get for $9.95 for the year. This will prevent spammers from getting your personal information and sending you spam emails and possibly even calling you on the phone.
PAYMENT INFORMATION
The final step is the payment information. Enter your details:
Credit Card Number
Expiration Date
CVV Code
Then click the CREATE ACCOUNT button. Read the fine print reminding you that all plans are prepaid and renew automatically.
CONGRATULATIONS
You now successfully have a domain name and hosting plan to start your blog or website. Check your email for information on logging into your GREENGEEKS DASHBOARD to find more information on things like setting up your EMAIL ADDRESSES and other back end functions.
STILL NOT SURE? TEST IT OUT FIRST!
You can always try out and get a taste of WordPress first by visiting www.tastewp.com for 2-day access to a WordPress site for free.
Go to www.tastewp.com and you will see the screen below:
Click the

I AGREE WITH THE TERMS

at the bottom left
Click the SET IT UP button right above the TERMS tick box
You will get the following screens:
You have been given a site that TasteWP has randomly assigned to you with a very interesting domain name. The name is written as funnyname.tastewp.com
The information on the screen is very important so click COPY and paste it in a blank document somewhere safe.
Note the site name, the URL, the Username and the Password. You will need these later.
Click the ACCESS IT NOW button at the bottom right.
You will now be taken to the WORDPRESS DASHBOARD with the following notice:
You now have 2 days to play around in the WordPress dashboard, install plugins, create pages, create blog posts and learn the ins and outs of WordPress.
Once you have gotten comfortable with WordPress, you are on your way to become a blogging or web-design pro! Now you can go back and get eco-friendly webhosting and make your blogging and web creation dreams a reality.
Learn how to start your own online business and quit trading your time for money.
START LIVING THE ISLAND LIFE by checking out the following BLOG POSTS